In white-legged shrimp farming, in addition to water quality, the breed is also an important factor to help increase the success of the farming crop. If the seed is not good, it will lead to shrimp loss, slow growth, stunting and susceptibility to disease. However, how to choose good breeds and raise them properly is always a concern for farmers. Here are a few methods OIC New provides to farmers to improve crop quality.
The role of shrimp breeding:
Shrimp nursery is the process of changing the living conditions of Postlarvae shrimp from a cement tank environment to a natural environment. Shrimp seeds are 10 – 15 days old. Stocking will easily cause the shrimp to die, causing great loss to farming households. To overcome this, farming households have applied shrimp nursery measures. Properly rearing shrimp seeds will help:
– Improve the survival rate of shrimp: If farmers release shrimp seeds directly into the pond immediately after catching them from the farm, the survival rate of shrimp is very low. To increase the survival rate of shrimp, many farming households have invested in nursery shrimp before stocking.
– Reduce the loss rate of shrimp seeds: Normally, shrimp purchased directly at the farm and released into the pond will have a very large loss (more than 20%). Because at this stage, shrimp are still very small and weak, causing a low survival rate. Besides, this rate can be even higher for weak shrimp seeds, transported long distances, and poorly packaged.
– Minimize the cost of seed: For some farming households, farmers often use seed and drop it directly into the pond, which makes the survival rate of shrimp very low, because the shrimp are still young and have not adapted to the environment. Therefore, when rearing shrimp, farmers can save maximum costs on seed, avoiding the case of releasing shrimp directly into the pond without going through nursery, causing the shrimp to die, having to change breeds and clean the pond again.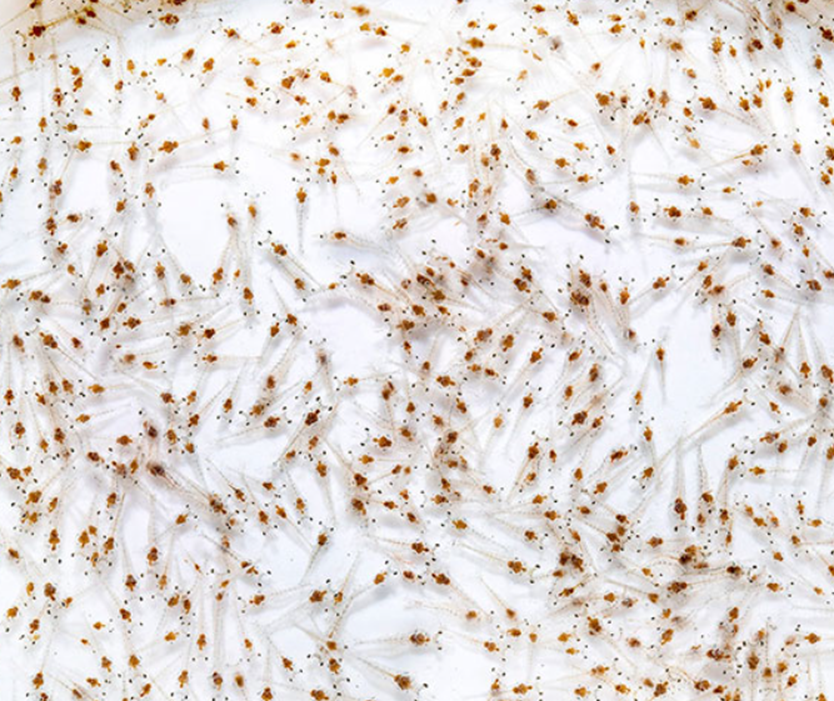 Shrimp nursery process
Measures to support shrimp rearing properly to improve crop quality
– Choose good quality shrimp seeds
+ Farmers should choose shrimp seeds of clear origin, uniform size, and have been quarantined, with the number of shrimp being different in size no more than 5%.
+ Seedlings are ≥ 10mm in length. Observing with the naked eye, one can see that the shrimp are not deformed, have straight whiskers, and spread tails. The color is bright and clear, the shell is shiny, the antennae are straight and extend to the tail, and it reacts quickly when there is a sudden impact. Reaction to capture prey, intestines full.
+ Observe under a microscope the parts of the club, antennae, body, thorax, tail legs, and tail segments without foreign parasitic protozoa and no lesions on the shrimp shell.
+ When observed in the tank: shrimp are very active, swim a lot, cling to the tank wall, when put into the pot about 10 liters of water, rotating the water flow. Shrimp swim around and swim upstream, not gathering in the middle of the basin when the water stops rotating.
Use supporting foods extracted from natural medicinal herbs using Nano technology
OIC New would like to introduce to everyone the Nano Eugenol (Silver Shrimp) product line to help supplement essential nutrients for the shrimp seed and post larvae stages.
Besides, the product helps shrimp peel simultaneously, harden their shells quickly, and eat strongly again after molting; Supports immune enhancement for Shrimp from 4 days old to 35 days old; Supports prevention of hepatopancreatic disease, white spot disease, yellow head disease, black spot disease, intestinal emptying disease, bottom drop, anorexia disease, stress due to transportation.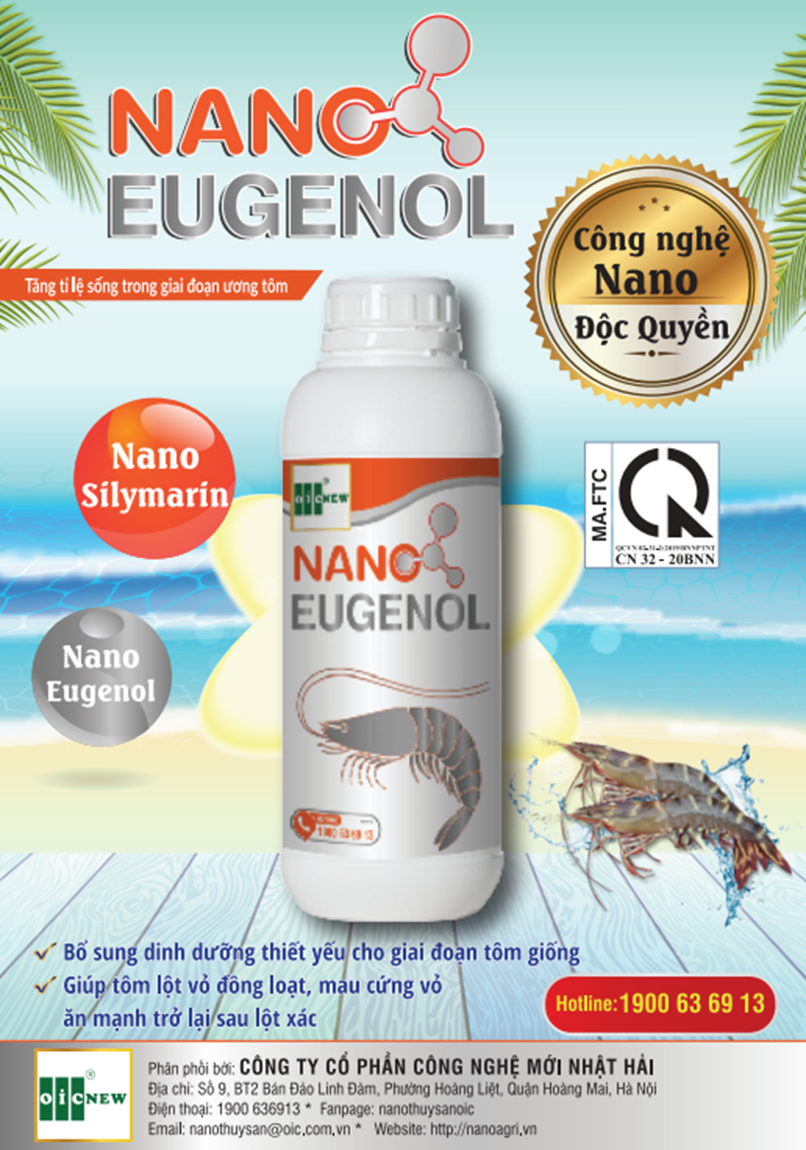 Nano Eugenol product is extracted from milk thistle (Silymarin), clove bud extract (Eugenol)
Eugenol is a naturally occurring active ingredient found in some plants such as cinnamon, cloves, in bay leaves and in some essential oils.
Currently, the use of plant-based active ingredient Eugenol (Clove flower bud extract) is an alternative to antibiotics in seafood.
Supplementing the active ingredient Eugenol in the diet helps increase growth performance, antioxidant activity and immunity of shrimp, helping to increase survival rate during the shrimp nursery period.
How to use Nano Eugenol:
+ 2-3 ml/kg of food when preventing disease
+ Feed continuously for 7-10 days and repeat after 2-3 days
+ 5-7ml/kg of food during epidemics
+ Feed for 7-12 days continuously and repeat after 1-2 days
Introduction to Nano technology applied by OIC New on disease prevention products for shrimp
Under the professional advice of international scientists from major universities in Vietnam as well as around the world, OIC NEW with exclusive research and production machines has successfully applied nanotechnology to prepare natural medicinal herbs with extremely small nano particle size.
OIC NEW is proud to be the first and only unit to successfully prepare the smallest sized nanoparticles on the market today (20-30nm), with standard ingredients – along with formula secrets and techniques. Nano products are completely absorbed into the digestive system of shrimp, fish… and are hundreds of times more bioavailable than conventional products. All of OIC New's Nano products from natural medicinal herbs are protected by patents and utility solutions by the Intellectual Property Office on the Preparation Process – a clear demonstration of research and potential development and output quality for products.
OIC New always listens to everyone's needs and reviews to continuously improve itself, providing the best products and services. You can contact OIC via Hotline: 1900 63 69 13 to receive more detailed advice from the technical team.