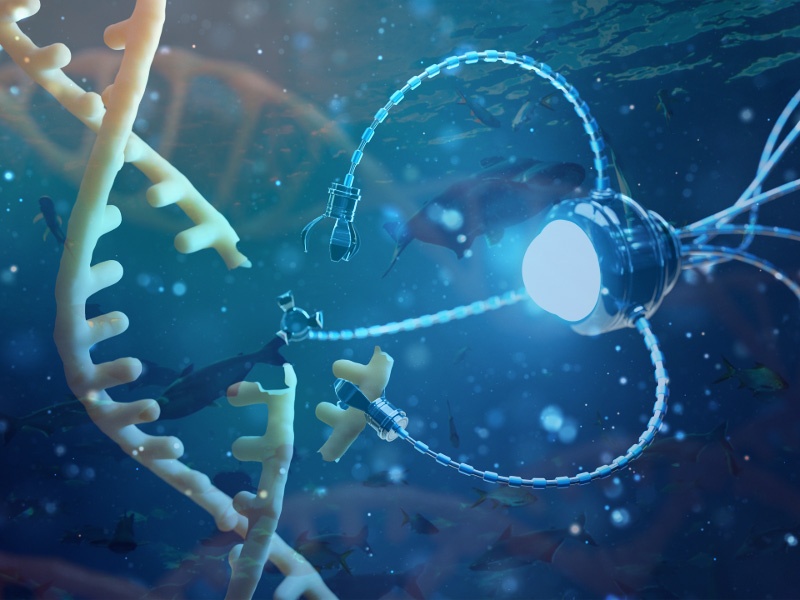 Nanotechnology – A new direction for the aquaculture industry to develop sustainably.
It can be affirmed that, in the current context, nanotechnology is a new, attractive and potential technology that can be applied in many areas of social life, especially in the field of agriculture. This is considered a new direction to develop an economically effective and safe agriculture in the context of integration and development.
In aquaculture, nanotechnology is widely used in: providing vaccines, improving the water environment, increasing nutrient absorption, and increasing disease prevention.
An effective vaccine supplying source thanks to nanotechnology
The use of vaccines is very important in aquaculture as a mechanism to help the host fight against pathogens. The use of nanoparticles therefore offers a tremendous opportunity to establish an effective vaccine delivery systems that provide stability to antigens and act effectively as adjuvants. Many nanoparticles can enter antigen-presenting cells by different pathways and induce appropriate immune responses to the antigen. To date, chitosan is the most widely used nanoparticle form in vaccine delivery.
Chitosan is a biodegradable polymer found in the shells of crustaceans and insects. Nanochitosan is nano-sized chitosan particles that easily pass through cell membranes, have an extremely large surface area, and are non-toxic, so they are used as drug carriers, vaccines, and gene transfer vectors. In summary, using chitosan nanoparticles in vaccines helps enhance fish immunity.
Nanotechnology in water purification
In recent years, water pollution has been considered a leading danger due to the agricultural industry's overuse of antibiotics and synthetic compounds to prevent and treat diseases. Therefore, silver nanoparticles (Ag), activated carbon, magnetic iron nanoparticles (FeO) etc. are used to treat aquaculture water environment very effectively. These nanoparticles have many times higher activity, longer duration of action, and less dosage. In addition, using these nanoparticles to treat infected water environments is also very effective in preventing the spread of diseases in the farming area.
Practice shows that nano TiO2 is the most effective and economical water treatment agent compared to traditional treatment methods. These technologies are increasingly popular and widely applied to increase production, improve biosecurity, and minimize the impact of diseases to develop aquaculture more and more sustainably, environmentally friendly, ensuring clean, high quality products.
Nutrients that are absorbed effectively thanks to nanotechnology
Nanoparticles will promote the absorption of aquatic feed by increasing the proportion of nutrients needed by fish when passing through intestinal tissue. Nano-sized minerals can enter cells more easily, helping to speed up their metabolism in the fish body. If this technology is used properly, it can reduce water pollution caused by food.
Selenium (Se), iron (Fe) nanoparticles are added in feed to improve fish growth. It was found that supplementation of 1mg nano Selenium (Se) per kg of feed showed significant improvement in the immune and antioxidant systems of carp.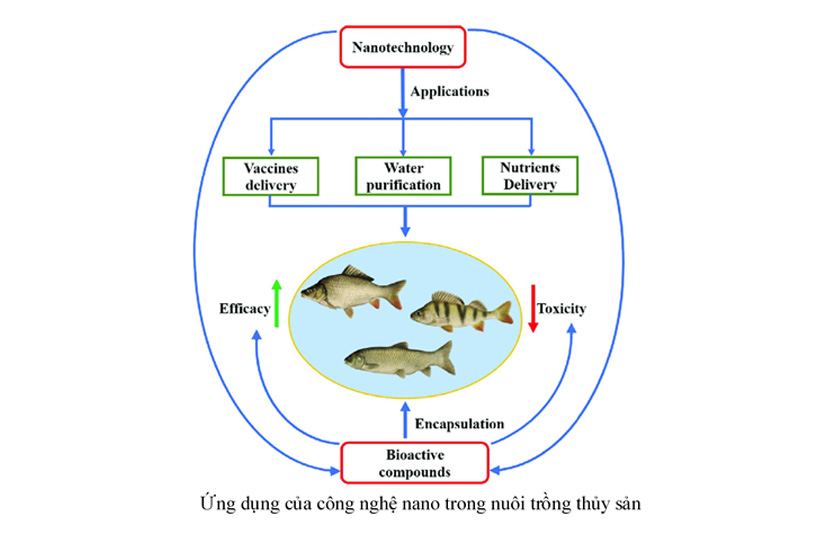 Besides their applications in sustainable development of the aquaculture industry, nanotechnology-based materials and products are also known to have adverse effects on the environment and human health. Aquatic organisms, in particular, because of their vulnerability, are at risk of exposure to the potential toxicity of these materials. Therefore, it is of primary importance to consider the adverse and toxic effects of nanomaterials on aquatic organisms.
That's why so many people have paid special attention to 'Curcumin', a natural yellow pigment compound derived from the stems and roots of turmeric. The effectiveness of this curcumin has been proven by scientists to have excellent anti-bacterial, anti-inflammatory, and anti-parasitic effects. Nano Curcumin is formulated in the form of microscopic particles with dimensions measured in nanometers that can pass through the gaps of cells when entering the body and distribute evenly into the blood, helping to improve absorption thousands of times better compared to regular turmeric powder.Although Curcumin has many miraculous and safe effects on the body, it is hydrophobic and therefore difficult to absorb, so its effectiveness when used is not high or it takes a very long time to achieve effectiveness.
To this day, Pickering emulsions are considered the most stable and safest encapsulation method for hydrophobic bioactive compounds. Pickering emulsions are emulsions stabilized by solid particles (nutrients) instead of surfactants. One study synthesized chitosan tripolyphosphate (CS – TPP) NPs using Pickering emulsion to deliver curcumin. The system shows long-term stability against adverse factors to ensure sustained release of curcumin over long periods of time.
Nanotechnology certainly plays an important role in the sustainable development of aquaculture. However, there is a concern about toxicity caused by materials and products based on this technology. Therefore, applications of biosafety and environmentally friendly methods are inevitable. In this regard, natural bioactive compounds have recently attracted much attention, especially curcumin which has shown a strong role in aquaculture. But these types of bioactive compounds are hydrophobic which hinders their effectiveness. That's why we need to do more research on the Pickering Emulsion method to solve the hydrophobicity problem of biological compounds.
Source: Silver shrimp