In shrimp farming, there are many factors that affect the growth and development process, causing stress in shrimp and affecting crop productivity. Therefore, taking measures to limit stress for shrimp is extremely important.
Stress disease in shrimp
Stress is a state of fatigue and tension when shrimp have to cope with harsh living conditions such as unusual increases and decreases in water temperature, low oxygen content, increased toxic gases and sudden changes in salinity.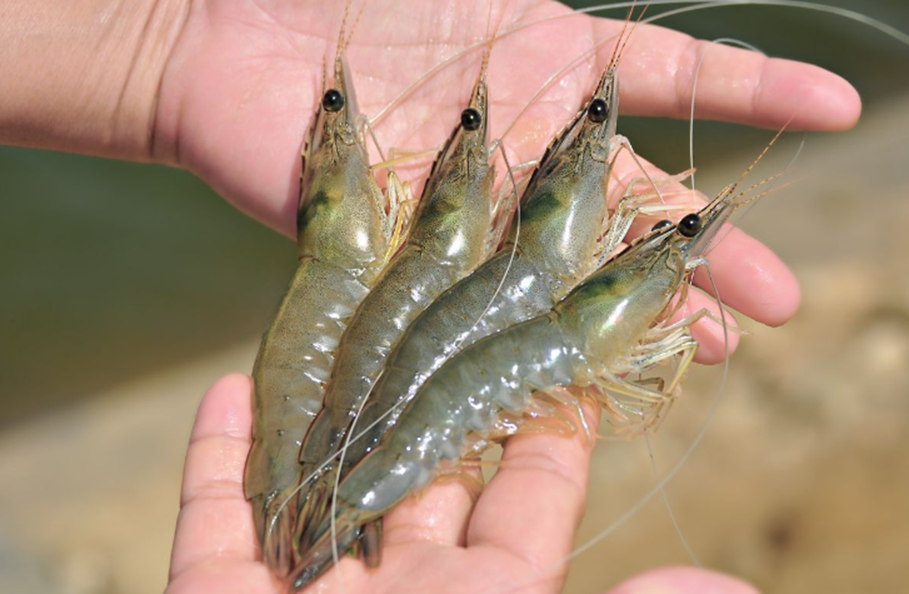 Stress disease in shrimp
Harmful agents and stress manifestations in shrimp
During the shrimp farming process, factors that are detrimental to shrimp and affect their growth and development can include:
– Water temperature increases and decreases abnormally during prolonged heat, causing food to pass through the intestines quickly, resulting in incomplete digestion, bacteria growth, and shrimp easily infected. In the cold or rainy season, shrimp reduce or stop eating, leftover food causes pollution, viruses thrive, and shrimp is susceptible to white spots.
– Dissolved oxygen is low and the environment is polluted when the pond bottom is polluted due to dead algae, excess food causes a decrease in oxygen in the water and increased toxic gas content, high farming density, too much algae causes lack of oxygen at night and near dawn, using chemicals consumes a lot of oxygen.
– Salinity changes suddenly when: moving from hatchery to pond, heavy rain, water change, prolonged heat.
– Farming density is too dense
– Poor water quality: lack of oxygen, high pH, toxic gases H2S, NO2, NH3 exceeding the threshold, suspended solids, high metal content…
Farmers can detect the stress of shrimp through signs such as decreased appetite, sometimes not eating, abnormal body color such as the body turning light purple, light pink or darker than normal, shrimp are prone to warping and chiseled bodies.
Measures to overcome stress in shrimp
OIC New would like to introduce to everyone the product line Nano YUCCA (Yellow Shrimp) to reduce oxidative stress for shrimp and fish. Detoxify shrimp and fish in environments with many toxic gases NH3 and H2S.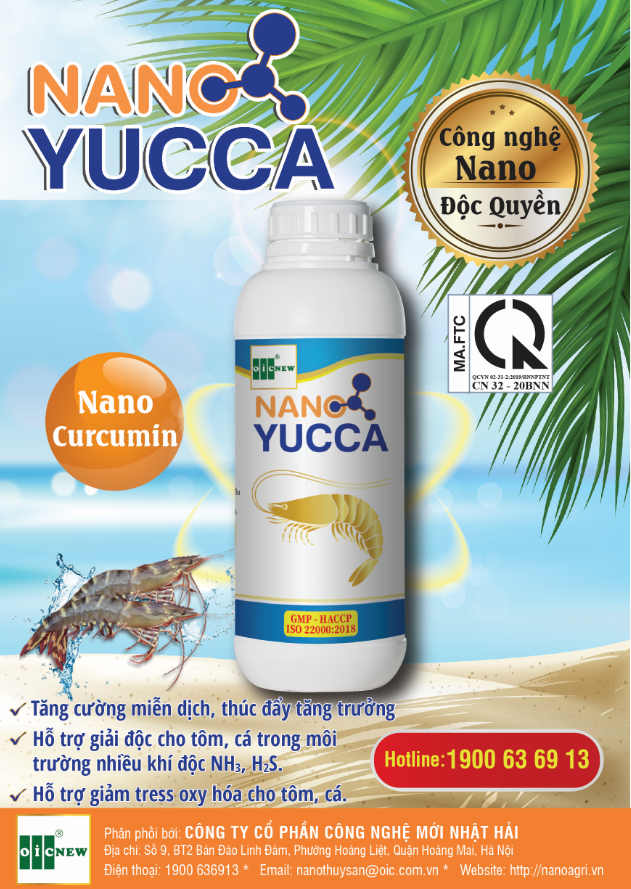 Nano YUCCA product – Helps promote growth for shrimp and fish
Nano YUCCA product is extracted from turmeric root
Curcumin (CUR) is essentially a yellow, hydrophobic polyphenol extracted from fresh turmeric. This substance has very high antioxidant, antibacterial and antiviral properties. Many studies show that supplementing 50mg CUR/kg of food will help stimulate growth and increase antibacterial ability in shrimp effectively.
This is a product that effectively supports farmers in reducing oxidative stress for shrimp and fish, helping to minimize the risk of shrimp and fish dying during transportation; Supports detoxification for shrimp and fish in environments with many toxic gases NH3 and H2S; Enhance immunity, promote growth.
How to use Nano YUCCA product
– Mix Nano Yucca into food
– Disease prevention: Use 3-5ml/kg of food continuously for 3 days. Repeat the cycle after 7-10 days
– When sick: Use 7-10ml/kg of food, feed continuously for 5-7 days. Repeat the cycle after 3-5 days.
Introducing the Nano technology applied by OIC New on disease prevention products for shrimp
Under the professional advice of international scientists from major universities in Vietnam as well as around the world, OIC NEW with exclusive research and production machines has successfully applied nanotechnology to prepare natural medicinal herbs with extremely small nano particle size.
OIC NEW is proud to be the first and only unit to successfully prepare the smallest sized nanoparticles on the market today (20-30nm), with standard ingredients – along with formula secrets and techniques. Nano products are completely absorbed into the digestive system of shrimp, fish… and are hundred times more bioavailable than conventional products. All of OIC New's Nano products from natural medicinal herbs are protected by patents and utility solutions by the Intellectual Property Office on the Preparation Process – a clear demonstration of research and potential development and output quality for products.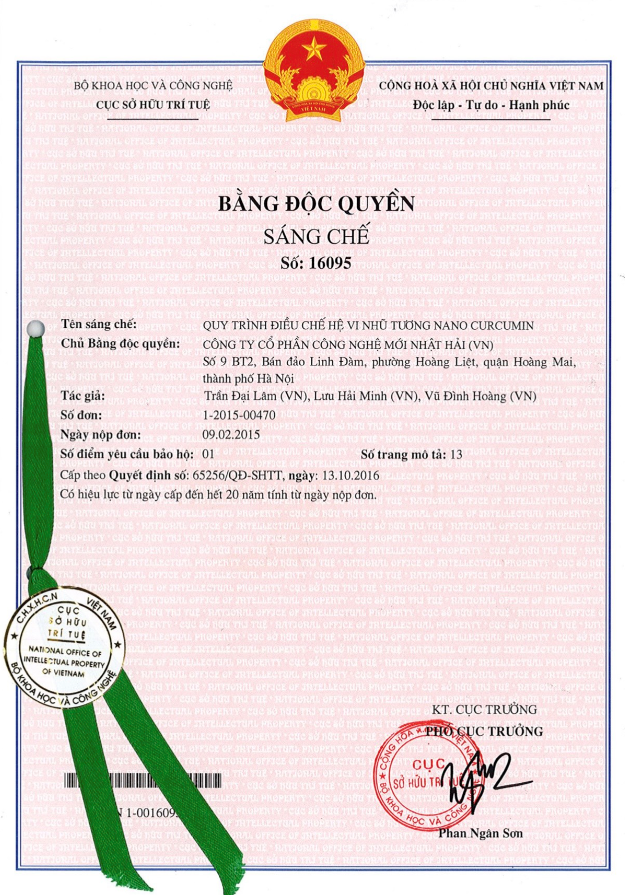 OIC New always listens to people's needs and reviews to continuously improve itself, providing the best products and services. You can contact OIC via hotline 1900 63 69 13 to receive more detailed advice from the technical team about the product.
Fanpage: Nano Fisheries (https://www.facebook.com/nanothuysanoic)