Adding ginger root extract to food, shrimp farmers can prevent the biofilm formation of Vibrio bacteria and protect shrimp against early mortality disease (AHPND).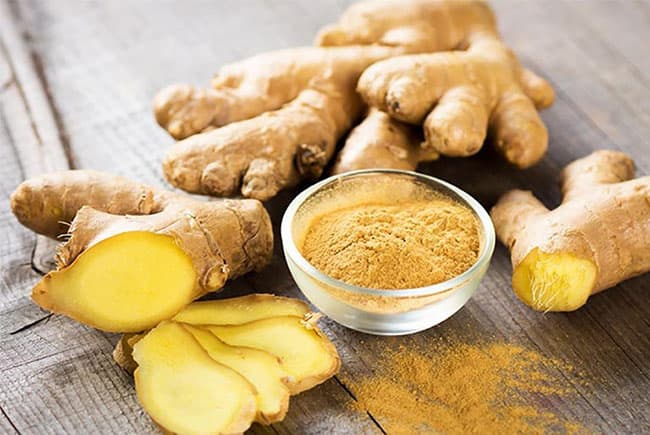 Bacterial biofilms and disease
Bacterial biofilms are formed by communities of bacteria encased in a matrix of extracellular polymer compounds that they produce themselves. Bacteria in biofilms exhibit a series of distinctive properties – these are significantly different from free-living bacterial cells. Living in biofilms also helps bacteria reproduce faster and easier. According to the US National Institutes of Health, more than 80% of bacterial diseases in humans and animals are related to bacterial biofilms. Vibrio bacteria, including the isolates that cause AHPND, also form biofilms in the epidermal chitin layer in the shrimp stomach before the bacterial cells produce and release PirA and PirB toxins that destroy hepatopancreatic cells and eventually cause the shrimp to die, causing mass premature death.
To prevent or treat AHPND, many solutions have been used, including antibiotics. But, the most serious problem when using antibiotics is drug resistance – the biggest threat to public health; Furthermore, it also leads to the risk of shrimp products being banned or returned in some import markets.
To avoid problems related to antibiotics, scientists at Mahidol University, Burapha University, Thailand studied the ability of herbal extracts to not kill or prevent the growth of disease-carrying bacteria but inhibits their biofilm formation within or on the host body. These herbs were initially screened in the laboratory (in vitro) to determine their ability to prevent bacterial strains V.parapaemolyticus 3HP (V.AHPND) from forming biofilm in Mueller Hinton medium (MHB) with 1 v/v glycerol and 1.5% NaCl but did not inhibit the growth of free bacterial cells. From the process of screening many plant extracts, scientists have discovered that ginger root extract by ethanol method has potential against V. AHPND.
Inhibition of AHPND bacterial biofilm
To create ginger root extract using the ethanol method, first extract ginger root powder (20 g) with 95% ethanol (300 mL) using the Soxhlet extraction method at 780°C for 14 hours. The solvent (ethanol) was then removed from the resulting extract using a vacuum rotary evaporator at 420°C until a yellow-brown paste (2.74 g) was obtained. This substance accounts for 137 mg/g (13.7%) of ginger powder.
This concentrated extract will be diluted in the solvent dimethyl sulfoxide (DMSO) (40 mg/mL); Next, it was further diluted with distilled water to create a solution at two final concentrations of 20 mg/mL and 2 mg/mL for use in Vibrio cell growth tests, biofilm formation experiments and feeding assays.
The final solutions were added to the bacterial culture medium. MHB medium was supplemented with 1.5 sodium chloride and the diluted cell optical density (O.D 600 nm) was measured again. The culture solution is still diluted until the O.D reaches 0.01 in the microplates to reach a final ginger root extract concentration of 0.2 mg or 2 mg.
Biofilm cultures were carried out at 300°C without agitation overnight before the biofilms formed were discolored with crystal violet and their thickness was measured using an O.D 600 nm absorbance reader. The higher the machine reading, the thicker the biofilm. A similar test was performed to evaluate whether ginger root extract inhibits the growth of V.AHPND free cells. Bacteria were grown in unprotected trays in medium MHB medium with 1.5% NaCl and left overnight at 300°C with 200 rpm agitation.
Absorbance of 600 nm light was used as a marker of cell growth. Experts observed that ginger root extract at both concentrations significantly inhibited V.AHPND biofilm formation but did not prevent bacterial growth, so ginger root extract at low concentrations More than 400 Micro grams/mL, 300 Micro grams/mL and 100 Micro grams/mL were also tested and all of these concentrations inhibited bacterial biofilm formation (Image 1).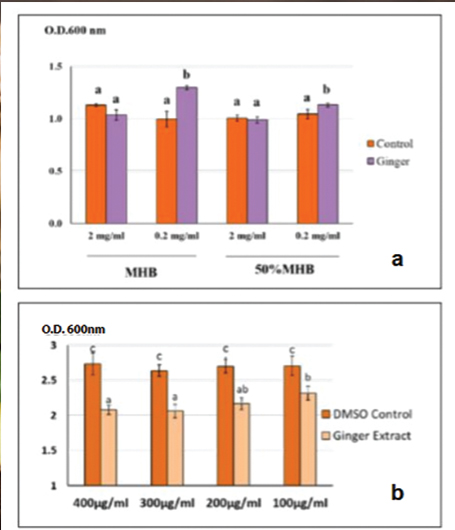 Shrimp mortality rate decreased after V.AHPND infection
Mix ginger root extract with industrial feed for postlarvae shrimp (at 2 ratios: 0.2 mg/g and 2 mg/g feed) and repeat feeding 3 times on a TTCT group for 7 days before feeding shrimp were challenged with V.AHPND virus using the 105CFU/mL dip method. The scientists continued to feed the shrimp the corresponding food while the control shrimp were fed regular food without ginger additives for another 9 days. During this time, shrimp mortality and health are monitored and compared.
From the results achieved, it can be seen that food supplemented with ginger root additive at the rate of 2 mg/g or 0.2 mg/g helps TTCT fight V.AHPND virus infection. The average survival rate of shrimp fed with ginger supplementation according to the above two ratios was 50% and 42.6%, respectively, higher than control shrimp without ginger supplementation, which were 42.5% and 35%. The survival rate of the control group without disease challenge was 92.5% (Image 2).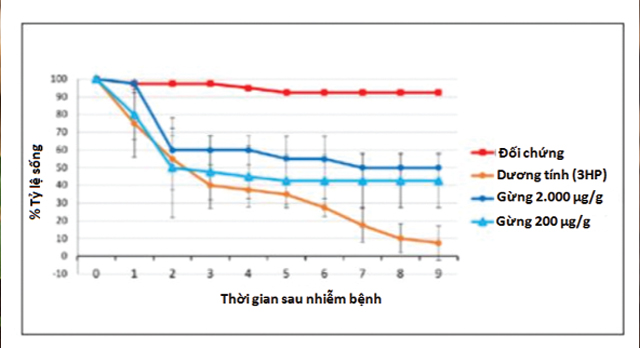 Histopathological tests of shrimp challenged with the AHPND (3HP) isolate using hematoxylin and eosin (H&E) tissue staining showed that AHPND disease was less likely to infect shrimp that were fed with ginger root extract supplement.
In this study, scientists also found that ginger root extract had no obvious negative effects on shrimp appetite or on shrimp growth. There are three potential bioactive compounds in ginger root extract (6-gingerol, 8-gingerol and 6-shogaol) that were also tested to evaluate their effectiveness in preventing biofilm formation in vitro and 6-shogaol was found to be the most potent. None of the above compounds affected bacterial growth in MHB medium.
The research results have confirmed that using feed additives containing ginger root to prevent biofilm formation is a new and effective approach in minimizing the negative effects of AHPND in shrimp farming.